Recently there was a posting regarding the
Popularity of Animal Brothels
. Today we are moving up the food chain to children.
People who should be trustworthy - have betrayed us.
Georgia principal
posts $50,000 bond after arrest in child-sex sting. Georgia authorities arrested 14 people they accuse of traveling with the intent to have sex with children, including a suburban Atlanta elementary school principal.
Disney workers, paramedic
among arrested in Lake County cyber sex sting. According to the article,three of the 22 arrested were Disney World employees, including Robert Kingsolver, Joel Torres and Patrick Holgerson. According to deputies, Holgerson was also willing to transmit HIV to a minor victim.
Parents should protect their children. That's not always the case according to the Click Orlando article. "David Griffith, 47, of Minneola, said he arranged with a 7-year-old's mother to meet the child for sex. Deputies say they found the child had also been sexually abused by her own mother. Since Griffith's admission, deputies say the child is safe."
There is no shortage of stories online on the topic of child trafficking/human trafficking. Just this January was the annual
Presidential Proclamation -- National Slavery and Human Trafficking Prevention Month, 2014
- NATIONAL SLAVERY AND HUMAN TRAFFICKING PREVENTION MONTH, 2014 Proclamations and observes have not stopped sexual abuse of children right here in theses United States.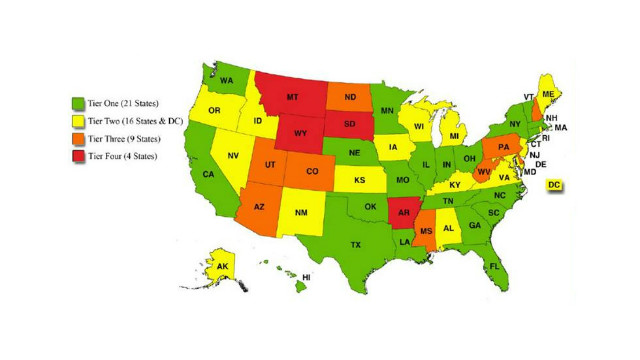 The Polaris Project map splits
the U.S. into four tiers,
one being the best, based
on anti-trafficking measures.
Rape for Profit
is a documentary in theaters now about the underage sex slavery problem in Seattle, Washington. A report published by Polaris Project, one of the leading organizations in the global fight against human trafficking and modern-day slavery, rated and placed all 50 states plus the District of Columbia in one of four tiers based on the human trafficking laws in the state.
Wyoming, Arkansas, Montana and South Dakota were included in the bottom tier for what Polaris says was a minimal effort to enact human trafficking legislation.
Shared Hope, a nonprofit that works to bring justice to victims of sex trafficking, has also graded each state on the way it responds to sex trafficking crimes.
Two-thirds of trafficking victims are women and girls. They are recruited by means of threat. Human trafficking is when a person is recruited, harbored, provided or obtained for the purposes of exploitation often sold as goods/products. Trafficking laws vary from state to state, with victims often being arrested and treated like criminals, reinforcing their belief that the police can't be trusted.
Forced laborers are making some of your favorite things. The U.S. Department of Labor has devised a list of countries and the items they export that are produced by child and forced laborers.
End Child Prostitution and Trafficking has devised a training course to teach hotel and motel staff how to identify a victim and to properly react. Find out if your hotel has completed the course before you book your next trip.
A number of trafficking victims are forced to work howling hours at hotels and motels for little or no pay. Children are often exploited sexually at hotels because employees are not trained to spot such crimes. Events like the Super Bowl contribute to incident of human trafficking in the U.S. Sex trafficking victims are brought into the areas to work.