239 days off every year
Rep. Dana Rohrabacher (R-Calif.) Richard T. Dykema, Rohrabacher's chief of staff, told the Los Angeles Times that the congressman is "expected to show up for work during the shutdown'' and expects to be paid.
Before this annoying government shutdown, in 2013 the House was scheduled to be in session for a grand total of 126 days. So according to the above quote, The House should only get paid for days worked - approximately 150.
How does Congress really feel about Americans, workers, and federal workers?
Sen. Charles E. Grassley (R-Iowa) "I'm working. Everybody that works gets paid for working.''
We know he lied.
The Capitol Police officer who was injured October 3, 2013 is a 23-year veteran of the force. A car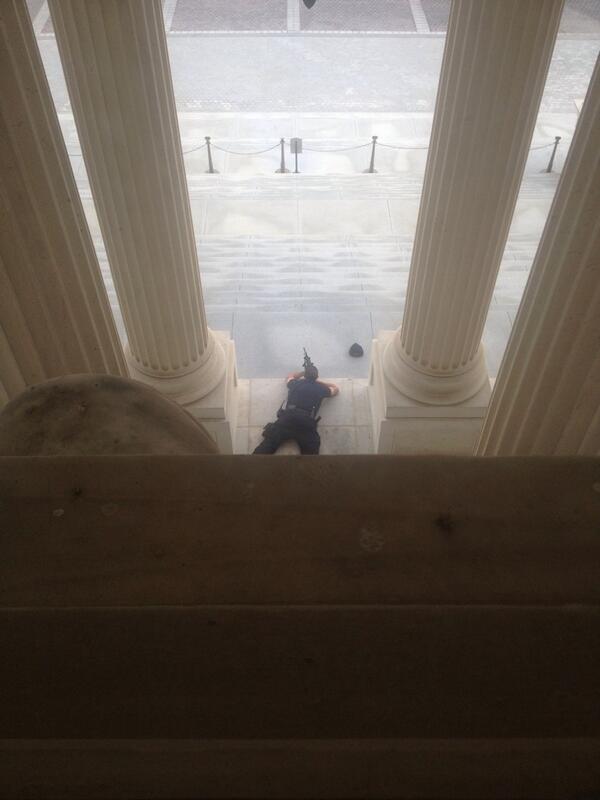 Buzzfeed's Kate Nocera tweeted
this photo from the Capitol
chase began when a driver tried to breach a White House security barrier ended near the U.S. Capitol.
Capitol Police officers who risked lives are currently unpaid. As essential federal employees, they are exempt from furloughs tied to the government shutdown, but funding for their pay is currently backlogged.
In an interview with blog.al.com/spotnews October 1, 2013, "We are basically working on IOUs," said Richard D. Schwein, special agent in charge of the FBI's Northern District of Alabama. "We are not being paid and won't be until a continuing resolution is passed."
Congress will tell you to your face Americans, you are just NOT that important in quotes!
Rep. Donald Payne Jr. (D-N.J.) "I have a family to raise,'' Payne told NorthJersey.com. "I have triplets in school, and unlike some members on the other side of the aisle, I'm not a millionaire."
During the week ended Oct. 5, the first week of the shutdown, there were 70,068 claims from furloughed federal workers. Many with families, bills and homes would like to work and get paid. None of them want to become homeless or have a car repossessed.
Sen. Roy Blunt (R-Mo.) Blunt told USA Today that the issue over his salary is "silly'' and ''symbolic,'' and he's taking his paycheck.
Rep. Renee L. Elllmers (R-N.C.) "I need my paycheck. That's the bottom line," Ellmers told North Carolina TV station WTVD last week. "I understand that maybe there are members who are deferring their paychecks, and that's admirable. I'm not in that position."
By Friday, after a public outcry, she had reversed her position.
Rep. Lee Terry (R-Neb.) "You know what? I've got a nice house and a kid in college, and I'll tell you we cannot handle it. Giving our paycheck away when you still worked and earned it? That's just not going to fly."
On Sunday, Terry apologized for his "hurtful'' comments. He said he'd changed his mind and wouldn't take his salary after all.
That would imply that government workers lived in the sewers. Their kids were dropouts with no chance of being educated at college level. Government workers don't need a pay check?
Representative Ted Yoho (FL) at a town hall meeting said of the workers he put out of work "if they're not working, they shouldn't get paid."
Time for Yoho to GoGo! Just because he has a veterinary practice, he cannot treat people like animals.
Federal employees be aware there are actually friends and neighbors who act and think it was your fault the government offices and facilities closed. They think you were at the spa or home watching Netflix. Some Americans feel you somehow enjoyed and encouraged the shutdown.
Did the shutdown of the government cause this Federal Employee to have a mental breakdown in the House of Representatives?
A Thank You
Thank you for coming back to work for those who will. For others who decided to "kick the government to the curb," I understand. I would not work with a group of people who didn't give a crap about me either.
Maybe there was at least one:
Rep. Jim Moran (D-Va.), who sponsored the House legislation, said on Wednesday that federal employees did not cause the shutdown and should not have to suffer for it.
"They have bills to pay – mortgages, student loans, tuition, groceries," he said. "It's our obligation to make them whole again."
God speed and God Bless America